Tropical Storm Nicholas - Heavy Rain Likely
Posted: 10 months ago
---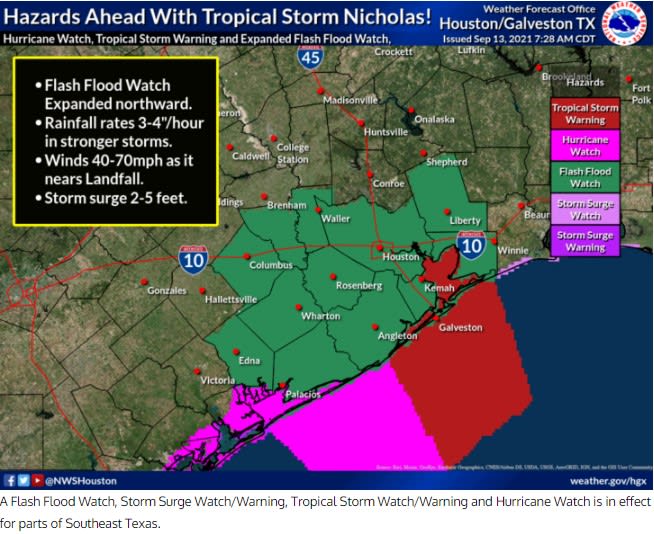 Weather Alert - September 13-15, 2021
Tropical Storm Nicholas has formed and is threatening the Greater Houston region. Please prepare for potential tropical storm force winds and heavy rain. Some areas may see as much as 10-20" of rain.
---
Precautions
Check your yard for loose objects that could become projectiles in heavy winds.
Clear gutters
Watch for street flooding. DO NOT drive into standing water.
Collect flashlights and other supplies, in case of power outages.
Stay Informed
NOAA's National Hurricane Center and Central Pacific Hurricane Center are your official sources for hurricane forecasts and the issuance of hurricane watches and warnings. You may also wish to check these local resources for additional information:
Visit Fort Bend MUD 41's website for up-to-date info: www.fbmud41.com
Visit our Resource page and quick links to the Flood Warning System: www.fbmud41.com/resources

Direct Link to Harris County Flood Warning System: www.harriscountyfws.org
Input your address on the left side of the page under ADDRESS SEARCH.
8003 RED GULLY BRIDGE will appear with the real time water level.

Get Prepared. Stay Informed. Stay Safe!